The Case of the Two Fiancées (2010)
---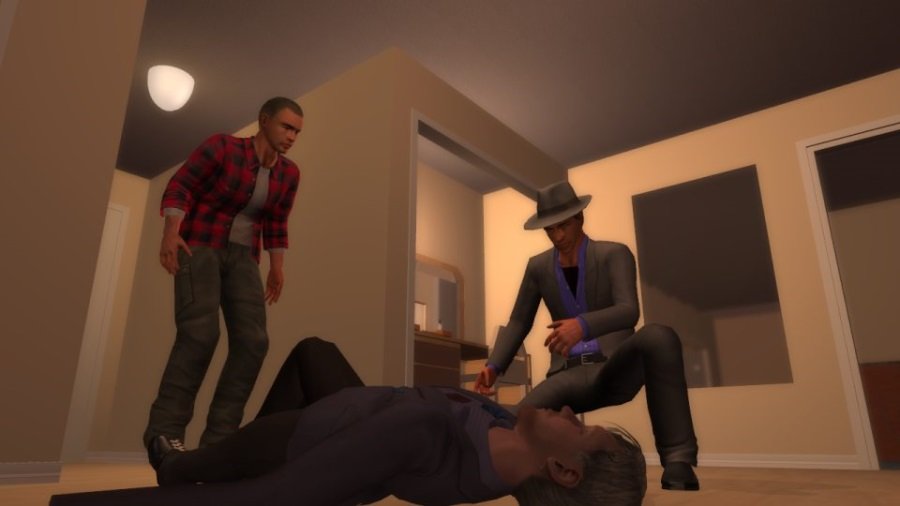 What Is it About?
Logline
A police inspector investigates the murder of a well-known Broadway star.
Concept
Just after the two fiancées of a famous Broadway star find out about each other, the star himself is murdered. There are four possible suspects, who are all lying to some extent, and who acuse each other. Inspector Thorne has the difficult task to distill the truth and reconstruct what really happened.
Synopsis (Spoiler)
The story begins with a party at penthouse of Keith Cameron, "the handsome but arrogant Broadway star." Among the guests are two woman, who both believe to be Keith's fiancée, and who find out about each other. Keith gets upset about their displeasure and asks everyone to leave. He is murdered after the party and is found by Keith's agent, Jack Parker, who notifies the police. Inspector Thorne arrives with Sergeant Muggin. They investigate the body and then interview Parker and others closely involved. Each of the interviewees point to someone else who could have done it, making things complicated for Inspector Thorne, who ends up with four plausible suspects. It could be one of the fiancées, the older Elaine Martin or the young Carla Carroll; or maybe Carla's former boyfriend, Steve Mitchell, who feels that Keith stole his girfriend; or perhaps Parker, who has been stealing money from Keith and whom Keith threatens with jail. All four possible suspects lie to some extent, and it is up to Thorne to sift out the truth. He is assisted by Muggin, who is far less talkative, but who can be relied on.
Background
The film is based on the NBC radio play The Two Fiancées Murder Case, which was broadcast on September 13, 1951. The voices in the film are those of the radio play.
The play is one in a series featuring Inspector Thorne and his sidekick Sergeant Muggin. In this episode, Thorne has to solve the case of the murder of Keith Cameron, who has two fiancées—as we, and the fiancées, are to find out.
View
---
Additional Information